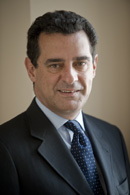 Roberto Testore,
Mr. Roberto Testore is the Group CEO since November 2016.
Born in 1952, married with a son, he graduated in Mechanical Engineering at the Turin University and started working in Fiat in 1976.
He has over 30 years of experience as Managing Director in many larger Italian companies. He has been the CEO of Comau, Fiat Auto, Finmeccanica's CEO and General Manager and later of Trenitalia.
In 2008 he founded FANTE S.r.l. and PANTHEON S.r.l, together with two other partners.
Non-Executive Director at TechWald Holding S.p.A., Endurance Technologies Ltd, Endurance S.p.A., Endurance Overseas S.r.l. and Bonfiglioli Riduttori S.p.A.